Who We Serve
We strive to provide the best products, education, and support for our customers and the families, loved ones, and medical professionals who care for them.
Individuals with Disabilities
We fit adults and children with disabilities with assistive equipment that's tailored to their needs and helps them achieve improved access to life.
Caregivers
We help caregivers get their loved ones the equipment they need, ensure their voice is heard, and support them throughout their caregiving journey.
Therapists
Working together, we help physical therapists, occupational therapists, and other healthcare professionals achieve patient care goals.
Industry Professionals
We provide annual continuing education courses to ensure the complex rehab technology industry continually improves its service for people with disabilities.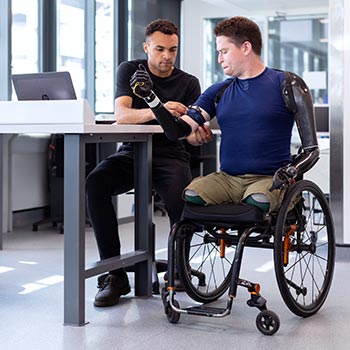 Our RESNA-certified ATPs: It's more than expert credentials. It's a calling.
We're proud to have RESNA-certified professionals who have an unquenchable passion for providing differently-abled people with the best in custom-fit, custom-crafted wheelchairs and other assistive tech.
Meet Your ATP Team
Our Guiding Values
As a values-driven organization, we ensure every action we put our hand to do is rooted in a guiding principle that serves the mission we've set out to accomplish in service for our customers.
Compassion
We see our clients as individuals with their own story and seek to understand their unique needs.
Education
We strive to increase our knowledge of complex rehab equipment and techniques continually so that we may know the options available that might meet our clients needs and assist them in obtaining funding in accordance with insurance protocols.
Efficiency
We always work with a sense of urgency to provide the necessary services and equipment as quickly as possible and strive to complete all tasks required to process a customer's order in the assigned time frame.
Communication
We listen to the descriptions of our clients' needs and problems, seek to understand their goals and include their input in the solution, and communicate issues as they arise to ensure the entire care team is kept up to date.
Accountability
We are accountable for the quality and speed of the work we produce, as our clients, partner therapists, and co-workers rely upon us to do our jobs efficiently and accurately.
Freedom
Our ultimate goal is to empower our customers and keep them moving by providing the products and services that fit their unique mobility and positioning needs and ensure they have the freedom to access life to its fullest.