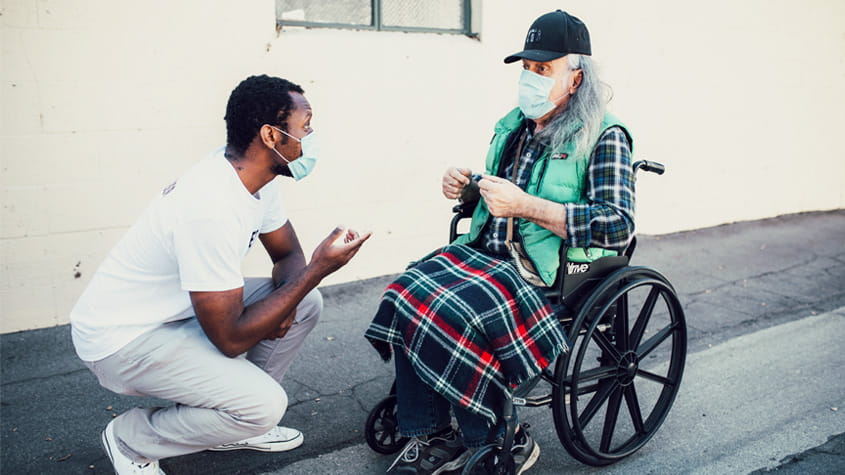 Here's what we'll cover:
We all have an innate desire to help others. Whenever we see someone struggling, our instinct is to jump in and offer assistance.
While we would like to help others as much as possible, our actions might be accidentally insensitive, condescending, or just plain unhelpful if the person we're wanting to assist doesn't actually need the help.
This well-intentioned mixup, unfortunately, happens all too often for people with disabilities and turns what would have been a simple task into an awkward or even frustrating situation.
A person's disability does not define them, nor is someone's personhood altered or broken by their having a disability.

Tweet
So what is this appropriate way to ask someone in a wheelchair if they need help? And more importantly, how can we make sure we're respectful of their needs when doing so?
How Should You Ask Someone Using a Wheelchair If They Need Help?
If you're rarely around people who use a wheelchair, it's totally normal to want to help — but then be immediately paralyzed by over-analysis of the situation.
"I don't want to make them feel like I feel sorry for them. It just looks like they're having a hard time with that box…"
"Would I look like a jerk if I held the door open for them? Or would I be more of a jerk if I didn't?"
Sound familiar? Don't worry. These split-second thoughts of uncertainty are normal. Let's dive into some quick things you can remember and put these anxious feelings to bed.
Don't make assumptions about a person's use of a wheelchair.
People may have a variety of reasons for why they would need to use assistive technology, such as a wheelchair.
Their wheelchair, regardless of why they have it, allows them to increase their access to life and helps them engage in their daily activities all the more fully.
You never know; perhaps someone in a wheelchair can walk just fine and has a similar range of mobility as you but needs the wheelchair to conserve energy and get around faster.
Wheelchairs are an assistive technology with a wide variety of ways in which they help people achieve greater access to life.
No matter why that person uses a wheelchair, you don't need to assume that the person using it is incapable of completing tasks without your help.
Ask first if you might be of service.
As a general rule of thumb, it's best to ask others first for their consent and permission.
If you would like to help someone in a wheelchair, always ask if they actually need the assistance first.
By phrasing your question with a "may I" or "can I," it assures them that you are asking for their permission before going ahead with any help that they may or may not need.
If you're just out of their line of sight when you go to ask, try to position yourself so that they can see you clearly; otherwise, those with limited vision or are hard of hearing might be taken by surprise. And if that's not possible, a quick tap or touch on the shoulder can help gently announce your presence.
Respect their response.
Always remember that if your help is rejected, it isn't personal.
The person with disabilities may very well be capable of performing a particular action independently and don't actually need assistance.
If they do not need your help, kindly respond that you understand. A simple "Understood. Have a great day!" is the perfect response in this situation.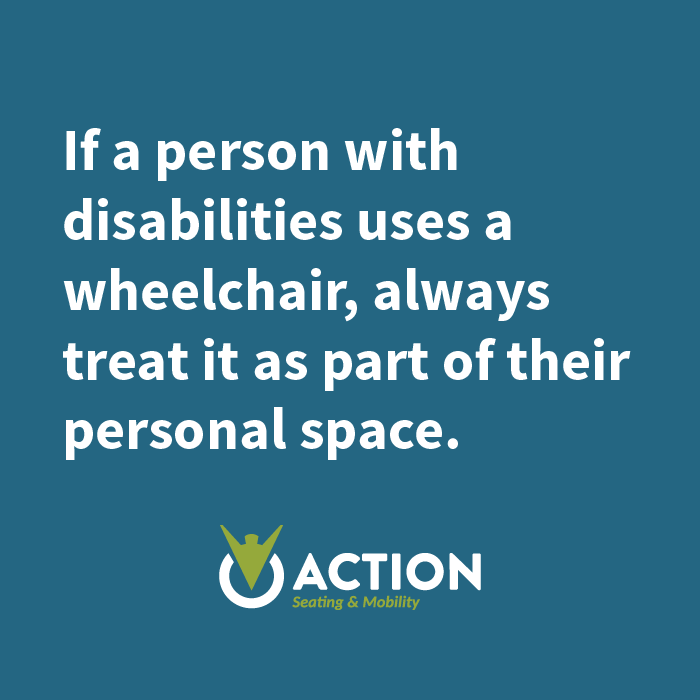 Proper Wheelchair Etiquette: What to Remember When Interacting with Someone in a Wheelchair
Another big area of uncertainty that many people wrestle with is any kind of conversation that might unfold while they assist someone using a wheelchair.
While understandable, there's no need to worry. Let's take a look at a few simple things to remember to help keep your conversations fun, smooth, and respectful.
Relax, and don't overthink the conversation.
Remember: you're simply speaking to someone who's using another form of transportation.
Wheelchairs and other assistive technologies allow people with disabilities to live their lives to the fullest extent.
Asking a person in a wheelchair if they need help is kind and compassionate of you, but it's not a big deal if it turns out that they didn't need help at all.
Don't over-police how you speak.
Over-policing your language and everyday expressions that you use are almost always more offensive than the term itself, though.
"Let's roll!"

"Want to take a walk?"

"Could I run this by you?"
Familiar turns of phrase like this are more than fine. More than likely, the only one that would feel awkward about using them is you.
Remember that a person isn't defined by their disability.
A person's disability does not define them, nor is someone's personhood altered or broken by their having a disability.
While some people with disabilities may be comfortable with — and even use — the term "disabled person," it's rarely helpful to use such phrasing when referring to people who might use a wheelchair.
This language can often make people with disabilities — regardless of whether or not they use a wheelchair — feel alienated, stigmatized, and not as wholly accepted as they should be.
The person in the wheelchair is always more than their wheelchair.
Look and speak directly to the person in the wheelchair.
Even if the person using a wheelchair has a caregiver with them or is unable to reply to you directly through speech, it is important that you look at and speak to them directly just like you would with everyone else.
They are just as much part of the conversation as anyone, and excluding them from the conversation when they are clearly right there or are the subject of the discussion can be extremely hurtful.
And if your conversations with someone in a wheelchair go on for an extended period, it is perfectly alright and inoffensive to bring your body and head to their eye level.
It will save both of you from a neckache, helps you make eye contact with them easier, and helps them feel genuinely heard.
Treat the wheelchair as an extension of that person.
If a person with disabilities uses a wheelchair, always treat it as part of their personal space.
Do not ever hang on, lean on, or touch a person's wheelchair without their permission; and respect their decision if they let you know that you are too close to them or their wheelchair.
Remember that service animals are working companions.
While animals are cute and fun to play with, if a person with disabilities uses a wheelchair and has a service animal with them, do not feed, pet, or interact with the animal unless the owner gives you specific permission.
The service animal is a working companion, and they are on the job to help their owners safely navigate their world. Interacting with the service animal could even be perceived as a threat or cause it to break their focus which would otherwise put their owner's safety at risk.
You can tell that a service animal is "at work" if they are wearing a vest or are on a lead when out with the wheelchair user.
Being a Help to People Who Use Wheelchairs Through Respectful Communication and Compassionate Service
Wheelchair etiquette as a whole focuses on the person with disabilities and not on the disability itself. The person is more than their disability and always should feel that way when speaking with you.
By remembering to relax and applying the helpful tips we covered together, you'll be able to confidently help people who use wheelchairs and create a comfortable and respectful atmosphere while doing so.