Course Overview
This course uses clinical examples to help you know when a patient or client might benefit from complex rehab technology, how their health outcomes can be improved, how to provide your patients or clients with a referral to quality CRT specialists.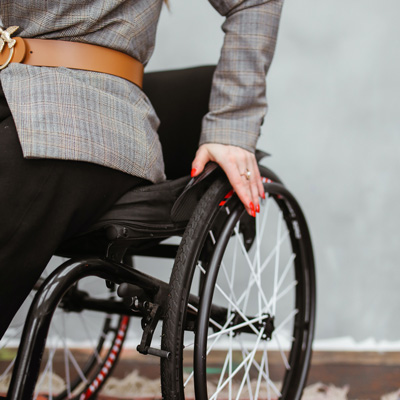 What You Will Learn
By the end of this course, you'll be able to identify and describe the 3 key indications that a person may need an evaluation for manual wheelchair complex rehabilitation technology.
Learn When a Patient Needs a Manual Wheelchair

You'll learn the 3 key indicators that signal your patient may need an evaluation for a manual wheelchair.

Rigid Vs. Folding Manual Wheelchairs

Learn the 3 clinical justifications that determine if your patient would benefit more from a rigid manual wheelchair or a folding manual wheelchair.

Help Prevent Shoulder Injuries

You'll learn and know how to explain the 2 adjustments that can be made to manual wheelchairs that can help prevent painful shoulder injuries.

Know When Power Assist is the Right Choice

Learn the 3 reasons why your patient or client could benefit from a power assist device for their manual wheelchair.
Course Flow & Time Outline
| Minutes | Topic |
| --- | --- |
| 5 | Introduction, Overview, and Review Course Objectivess |
| 5 | Indications for manual wheelchair mobilitys |
| 10 | Rigid versus folding manual wheelchairs considerationss |
| 10 | Shoulder anatomy and biomechanics as it relates to manual wheelchair propulsions |
| 15 | Common shoulder injuries and prevention as it relates to manual wheelchair configurations |
| 10 | Training techniques for manual wheelchair propulsion and power assist optionss |
| 5 | Summary, Question & Answers |
Statement of Clinical Relevance
Content of the activity directly relates to the scope of practice of occupational and physical therapy as defined by the American Occupational Therapy Association (AOTA) and the American Physical Therapy Association (APTA).
Completion Requirements
In order to obtain CEU credits, participant must attend course, sign in and out, and complete an on-line course assessment following completion of the course.
View Course PDF
AOTA CEUs
0.1 AOTA CEU(s)
Contact Hours
1 Contact Hour(S)
Who is this program for?
Occupational Therapists

Occupational Therapy Assistants

Physical Therapists

Physical Therapist Assistants

Assistive Technology Professionals

Medical Suppliers & Providers

Complex Rehabilitation Professionals
AOTA Classification Code(s)
Category: OT Service Delivery
Level
Beginner
Instructional Method
Synchronous Live Stream Lecture, Discussion, Clinical Applications, and Demonstration
In Partnership with

Are you ready to improve your level of patient care and knowledge?
We believe that education is the first and most important step in helping qualified medical professionals elevate their care practice and provide better outcomes for their patients.
Register Now