Course Overview
This course will look at the mobility algorithm for appropriately selecting a mobility device that helps a client be as independent, safe, and timely to perform MRADLs while focusing on the literature. We will review unique considerations when it comes to concerns of visual field and what literature shows that helps for assessing and training individuals with unilateral neglect and other impacts from CVA/TBI.
On-site or Live Stream Lecture
Intermediate Level Course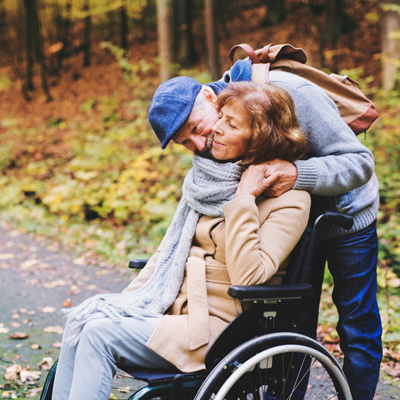 What You Will Learn
This class will look at common barriers including transportation and understanding the purpose of power seat functions to optimize physiological and functional outcomes when appropriate.
CVA/TBI's Impact on Seating and Mobility

Learn how CVA/TBI can affect a person's motor, visual, sensory, and vestibular systems and how these ultimately effect seating and positioning considerations.

Understand the Challenges

Learn the challenges those with CVA/TBI face during transportation, ambulation, and during activities of daily living and how certain assistive technologies can help them achieve improved health outcomes.

Mobility and Control Solutions

Understand which drive control systems, mobility functions, and other assistive technology features can be especially effective in helping those with CVA/TBI better engage with thier world.

Make Confident Recommendations

By understanding the challenges those with CVA/TBI face, learning the assistive technologies available to them, and the key factors to consider when determining the right mobility options for them, you'll be able to confidently recommend the technologies that help them achieve a more robust access to life.
AOTA CEUs
0.15 AOTA CEU(s)
Contact Hours
1.5 Contact Hour(S)
Who is this program for?
Occupational Therapists

Occupational Therapy Assistants

Physical Therapists

Physical Therapist Assistants

Assistive Technology Professionals

Medical Suppliers & Providers

Reimbursement & Billing Specialists

Complex Rehabilitation Professionals
AOTA Classification Code(s)
Category: OT Service Delivery
Level
Intermediate
Instructional Method
On-site Lecture or Live Stream Lecture, Discussion, Clinical Applications, and Demonstration
In Partnership with

Are you ready to improve your level of patient care and knowledge?
We believe that education is the first and most important step in helping qualified medical professionals elevate their care practice and provide better outcomes for their patients.
Register Now