Course Overview
This course will examine the coverage criteria, clinical benefits and research in support of the various power seating functions, provide the clinician with practical tools to consider and incorporate when evaluating and documenting the need for power seat options; and assist the supplier in reading and interpreting the information in the medical record to determine when to provide power tilt, power recline, a combination of tilt and recline; when power ELRs or a power AFP is medically necessary and what is required for power seat elevation to be considered a covered benefit.
On-site or Live Stream Lecture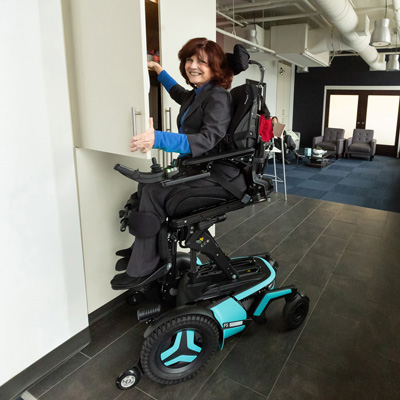 What You Will Learn
Focused on equipping you with the tools and knowledge you need for understanding the evaluation and documentation processes for power seating, this course provides a robust educational experience for medical & administrative professionals as well as assistive technology professionals.
Dive Into the Research and Data

You'll examine the latest data and research concerning power seating functions and their effects on patient health outcomes.

Understand the Patient Record & Seating Needs

Understand the key factors to examine on a patient's record and medical history when assessing the proper power seating and mobility functions they'll need.

Learn the Impact of Power Seating Functions

Learn how power tilt, power recline, tilt-and-recline combinations, and other key power mobility functions can help prevent tissue injury and promote improved health outcomes.

Medical Necessity & Covered Benefits

Learn when power ELRs or power AFP is medically necessary and what is required for power seating functions to be considered covered benefits.
AOTA CEUs
0.1 AOTA CEU(s)
Contact Hours
1 Contact Hour(S)
Who is this program for?
Occupational Therapists

Occupational Therapy Assistants

Physical Therapists

Physical Therapist Assistants

Assistive Technology Professionals

Medical Suppliers & Providers

Reimbursement & Billing Specialists

Complex Rehabilitation Professionals
AOTA Classification Code(s)
Category: OT Service Delivery
Level
Beginner
Instructional Method
On-site Lecture or Live Stream Lecture, Discussion, Clinical Applications, and Demonstration
In Partnership with

Are you ready to improve your level of patient care and knowledge?
We believe that education is the first and most important step in helping qualified medical professionals elevate their care practice and provide better outcomes for their patients.
Register Now