Course Overview
The materials and design of seating components, in conjunction with the mobility base set up, will directly impact a client's skin and tissue health, posture and alignment as well as functional ability. Unfortunately, the design and material choices of seating products are often overlooked in the decision-making process. This one-hour live lecture session will focus on a basic science of materials approach in the selection of appropriate wheelchair seating products.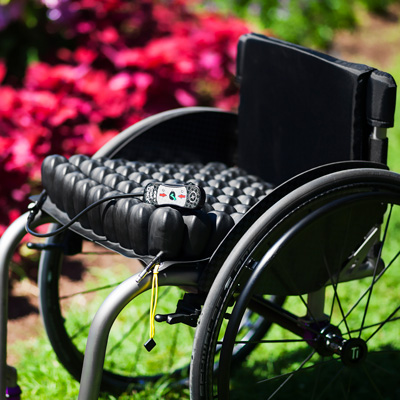 What You Will Learn
Through this course, you'll learn why the selections of materials and designs matter, how they directly affect patient comfort & health outcomes, and accomplish these 4 key objectives:
Learn the Forces on Your Patients' Bodies

You'll learn the myriad of forces your patients' bodies are subjected to depending upon the selection of materials and the design of their cushions.

Know the Health Outcomes

Understand how these forces can affect their bodies and how proper material and design choice can create improved health outcomes.

Understand the Impact on Mobility and Function

You'll learn and discuss the 3 types of changes in you patient or client's condition and function through proper seating and positioning materials and designs.

Optimized Pressure Management

Learn the best practices of pressure management and 3 aspects of how to best apply them for your patients.
Course Flow & Time Outline
| Minutes | Topic |
| --- | --- |
| 5 | Introduction, Overview, and Review Course Objectivess |
| 5 | What is Material Science?s |
| 10 | Seating Design Principless |
| 5 | Clinical Significance of Forcess |
| 20 | Client Presentations over Times |
| 10 | Clinical & Best Practices |
| 5 | Summary, Question & Answers |
Statement of Clinical Relevance
Content of the activity directly relates to the scope of practice of occupational and physical therapy as defined by the American Occupational Therapy Association (AOTA) and the American Physical Therapy Association (APTA).
Completion Requirements
In order to obtain CEU credits, participant must attend course, sign in and out, and complete an on-line course assessment following completion of the course.
View Course PDF
AOTA CEUs
0.1 AOTA CEU(s)
Contact Hours
1 Contact Hour(S)
Who is this program for?
Occupational Therapists

Occupational Therapy Assistants

Physical Therapists

Physical Therapist Assistants

Assistive Technology Professionals

Medical Suppliers & Providers

Complex Rehabilitation Professionals
AOTA Classification Code(s)
Category: OT Service Delivery
Level
Beginner
Instructional Method
Synchronous Live Stream Lecture, Discussion, Clinical Applications, and Demonstration
In Partnership with

Are you ready to improve your level of patient care and knowledge?
We believe that education is the first and most important step in helping qualified medical professionals elevate their care practice and provide better outcomes for their patients.
Register Now